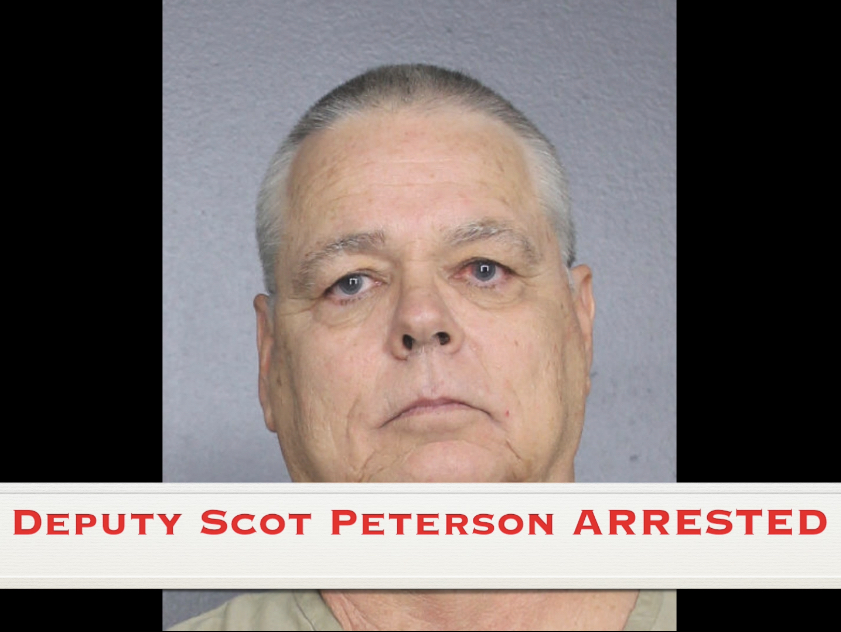 Broward Deputy arrested for role in school shooting
Yesterday, Broward County Sheriff's Deputy Scot Peterson was arrested. The criminal charges against Scot Peterson stem from his actions, or inaction, during a school shooting. On February 14th, 2018, a shooter killed 17 people and injured another 17 at Marjory Stoneman Douglas High School in Parkland, Florida.
Sadly, he shooting made worldwide headlines as news reports showed Deputy Peterson hiding behind a wall while children were begin murdered.
Afterward, Peterson and then Broward Sheriff Scott Israel came under heavy criticism for the handling of the shooting. Sheriff Scott Israel was removed from his position as sheriff by Florida Governor Ron DeSantis in January.
Peterson was the school resource officer at the school for eight years, we was a deputy for 30 years. Former Broward County Sheriff Scott Israel suspended Deputy Scot Peterson after the shooting. While suspended, Peterson retired and now collects an $8,000.00 per month pension and lives in North Carolina.
Just before the announcement of Peterson's arrest, current Broward Sheriff Gregory Tony fired Peterson, a purely symbolic act.
Arrest Warrant for Deputy Peterson
Broward Circuit Court Judge Andrew L. Siegel singed an arrest warrant for Peterson in June 3rd, 2019. The warrant charges Peterson with seven counts of Neglect of a child, three counts of Culpable Negligence, and one count of perjury. A copy of the warrant can be seen here.
Deputy Peterson remains in the Broward County Jail with a $102,000.00 bond. Today, at first appearance, the Judge did not lower Peterson's bond.
Here is how I am looking at the case at this particular time.
Follow us on:
Twitter: https://twitter.com/PJMcgeehanLaw
Facebook: https://www.facebook.com/pjmlawyer/
Instagram: https://www.instagram.com/the_magic_city_lawyer
LinkedIn: https://www.linkedin.com/in/patrick-m…
Join our Facebook Group, "Ask a Florida Divorce Lawyer at: https://www.facebook.com/groups/2225044291148334/?ref=bookmarks
Find us on the web at:
www.miamidomesticviolencelawyer.com
Email us at: patrick@pjmlawyer.com
No part of this video is to be considered legal advice. This video is for educational purposes only. No attorney/client relationship is formed from watching this video.
Please subscribe to our YouTube channel, "Your South Florida Lawyer, Patrick J. McGeehan," for more videos explaining legal concepts in easy to understand terms.
Return to our blog!